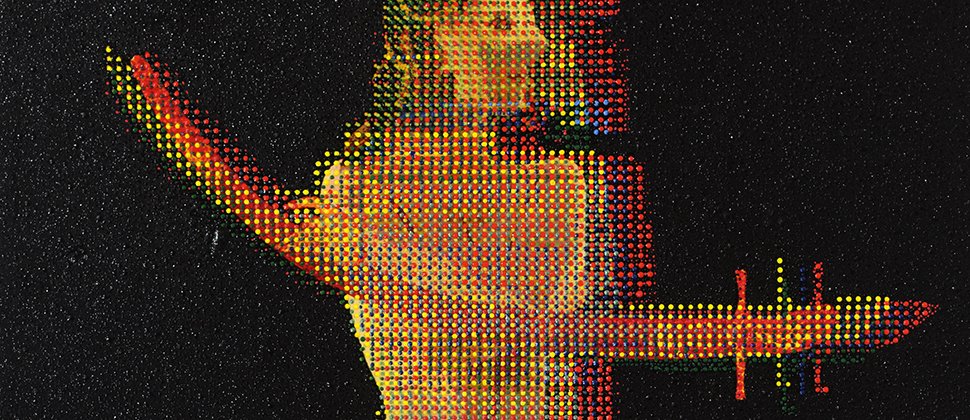 SAMIRA HODAEI (IRAN)
After her Bachelors at the Al Zahra University in Tehran, the young Iranian artist worked for six years as the assistant of the internationally known artist Reza Derakshani. Additionally, Samira Hodaei participated in several group exhibitions in Tehran.
As an "Artist in Residence" at the AB Gallery she received the opportunity to work in a new environment, thousands of kilometers away from her own country. The series of work, that have their origin in Iran, were significantly developed and completed, during her stay. The new canvas works are witnesses of the artist's stay in Europe and create a bridge between Switzerland and Iran in an artistic way.
SOLO EXHIBITIONS
| 2018 | "Cinema Europe", Künstlerhaus Bethanien, Berlin |
| --- | --- |
| 2017 | "Signal is Weak!", AB43 CONTEMPORARY, Thalwil/Zurich |
| 2015 | "Philosophy of the Bedroom", AB GALLERY, Lucerne |
| 2014 | "And the dance goes on", Cube Arts Gallery, Dubai |
| 2013 | "Harem of the Heart", Gallery AquabitART, Berlin |
| 2012 | "Dancing The Sharp Edge", AB GALLERY, Lucerne |
| 2011 | Video Project "Endless", AB PROJECTS, Zurich |
| 2010 | "Stones and Mute Birds", AB GALLERY, Lucerne |
GROUP EXHIBITIONS (SELECTION)
| 2016 | "Allusive Moment", MiM Gallery, Los Angeles |
| --- | --- |
|   | "Made in Iran", Kunstverein Konstanz, Konstanz |
| 2015 | "There Are Too Many Walls But Not Enough Bridges – Highlights", AB Gallery, Lucerne |
| 2014 | "And the dance goes on", Cube Arts Gallery, Dubai |
| 2013 | Heavenly Paradise", AB Gallery, Lucerne |
|   | "Still Summer II", Makii Masaru Fine Arts Gallery, Tokyo |
|   | "Born in Iran", AquabitArt, Berlin |
| 2012 | Nishinomiya Funasaka Biennale, Japan |
|   | "ARIMAS", AB GALLERY, Lucerne |
|   | Nuova Galleria MORONE, Milan |
|   | "Between two Cultures", Doha, Qatar |
| 2011 | The Video Cube Project, Istanbul |
| 2010 | Galerie Nero, Wiesbaden |
| 2007 | Iranian Artists Forum, Teheran |
| 2006 | Nicole Gallery, Teheran |